Holy shit! NEWSFLASH for all of you readers out there. This is big news because it encompasses so many positive elements. We have an Asian-American MALE sex symbol and popstar icon who is breaking sound and racial barriers with this announcement. He has already been gaining momentum by starring in a movie called Hype Nation scheduled to be filmed this year.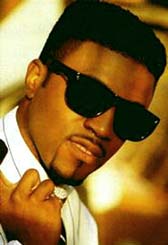 Former K-Pop 2PM member
Jaebeom Park will be working with one of my favorite producers
of all time! For those of your who are too young to remember or even weren't born at the time, Teddy Riley is the founder of the late 80s-90s New Jack Swing and contemporary R&B sound.
YEP YEP!!

Teddy was also part of a R&B trio called Guy releasing many New Jack Swing and R&B classics such as "Groove Me", "My Fantasy", "Let's Chill", etc. If you don't know about Teddy from his days with Guy then you definitely will know him as a BLACKStreet member producing hits such as "No Diggity" and exec. producer for Michael Jackson's, Dangerous album.
When it came to R&B producers, I always felt that Teddy Riley never got the kind of recognition and commendation from the mainstream as other artists-producers out there. Hopefully, his collaboration with Jaebeom will reignite his flame as a producer and catapult both of their careers to a higher level popularity and notoriety.
I have a message for Jay Park.
Jay,
You are in good hands working with a musical genius like Teddy Riley. Hold it down and keep representin' for your Asian-American brethren. You have a solid fan base worldwide. I'm 100% confident this project will be a success.
-Masir Jones
P.S. I'm envious of you being able to work with Ted.